IMPORTANT TERMS AND DEFINITIONS
Beach Entry
Beach Entry
A gently sloping transition from your deck into the water. Typically, this entry is capped with some type of stone. If a pebble finish is chosen for the pool, it is not necessary to cap it with stone. Typically, a bubbler is installed into the entry to prevent water stagnation and collection of debris.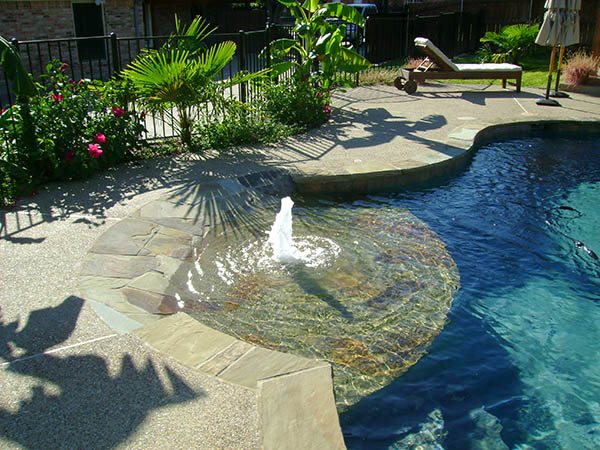 Bond Beam
Bond Beam
Beneath the pool coping, and behind the tile is what is referred to the bond beam or pool beam. The pool bond beam is subject to many forces acting on it, and for this reason it is twice wrapped with 1/2" rebar and poured at 12" thick.
Boulders In Beam (Rock Waterline)
Boulders In Beam (Rock Waterline)
When the gunite is formed, the top of the bond beam will be finished at a 45% angle down toward the pool water. This will allow for the placement of boulders that, when finished, will give the appearance of the boulders submersed in the water. This is done in place of coping. Typical, a small strip of waterline tile will be place beneath the boulders to create a clean terminating line for the interior pool finish.
Boulders On Beam
Boulders On Beam
Natural accent rocks, set in the pool coping various locations around the deck. Nice look on either side of a beach entry or tan ledge.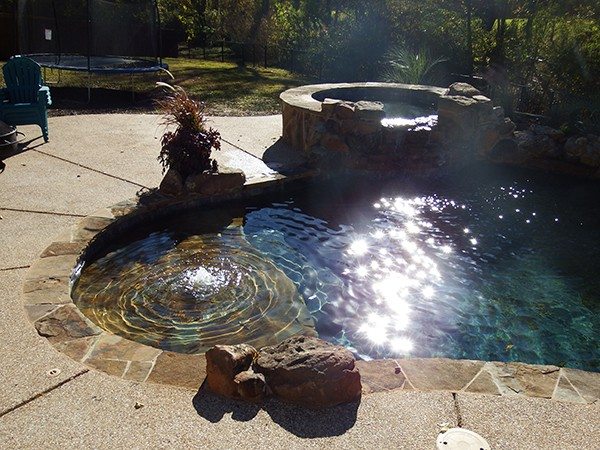 Bubbler
Bubbler
A fountain a 2-3 inches below the surface of the water that will cause the water to bubble up, create soothing sound, and water movement. LED bubblers are available to light the water as it bubbles up.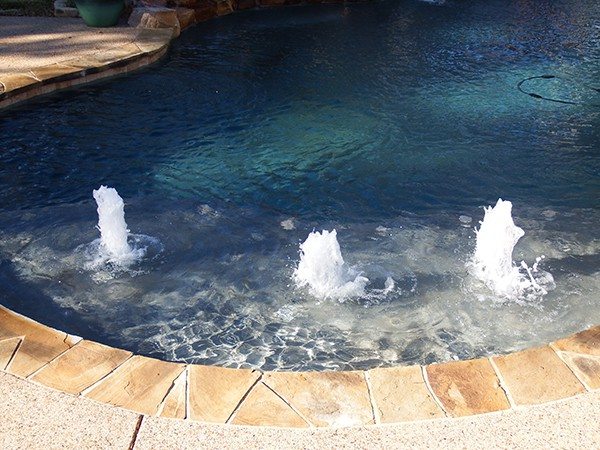 Cabana
Cabana
A cabana is an open-air roof structure that can be built as independent or attached to a home. These structures are typically square or rectangular in shape. With an added wall and TV enclosure, these structures are ideal for sitting and TV viewing. The cabana is also an ideal structure for a fireplace and/or outdoor kitchen. Attach a pergola to a cabana to create additional covered space with a spectacular look at a lower price !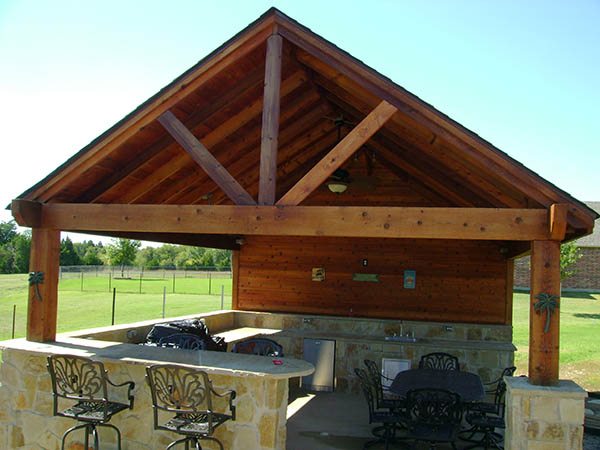 Coping
Coping
Material that surrounds the perimeter of the pool and/or spa and caps the bond beam. Coping is typically 12" wide but may be as wide as 18". Standard copings are Flagstone or precast concrete copings. Upgrade coping materials such as Travertine, Marble or Lueder's stone are available.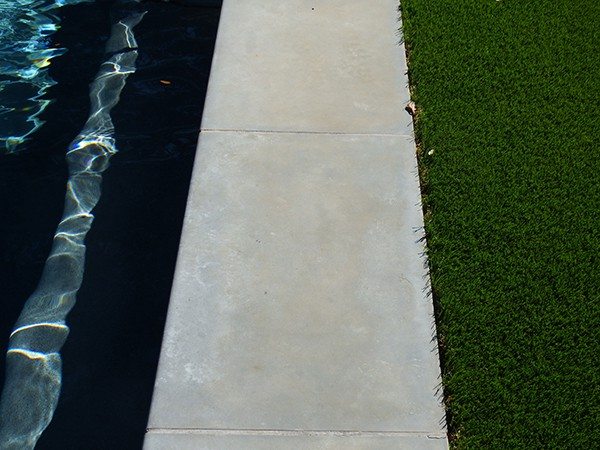 Deck
Deck
A Deck is the surface around the pool. The deck is typically tied to the steel of the pool shell and a mastic is used between the coping and the deck. Types of decks include: Broom Finished ($) - Standard concrete deck. Washed Aggregate ($) - Standard concrete with top layer of concrete washed off to expose the pea gravel aggregate. No Color Salt ($) - Standard concrete but with rock salt trowelled into the finish to create pitted/distressed look. Colored Salt ($$) - Standard concrete but with added color and then rock salt trowelled into the finish to create pitted/distressed look. Texture Skin ($$) - Concrete with color that is finished with a textured skin that is tamped into the concrete to create a textured look. Patterned ($$$) - Concrete with color that is finished with a patterned matt that is tamped into the concrete to create the patterned look. Concrete Pavers ($$$) - Such as pavestone ... typically laid over a crushed concrete sub base - excellent choice for projects built on expansive soils. Travertine Pavers ($$$) - Classical and elegant for an exceptional look on contemporary and high-end pools. Sun Deck ($$) - A sprayed application over standard concrete. Available in various colors and textures. Advantages is that it creates a slip and heat resistant surface. Due to it being an applied spray application, ongoing maintenance will be required. Flagstone ($$$$) - Typically used over standard concrete for a high-end, rustic look. Grass and Concrete ($$$) - Contemporary style positioning sections of concrete separated by ornamental grass.
Click here to view our deck gallery.
Deck Jet
Deck Jet
Spray nozzles that are installed in the deck surface and sprays in an arch into the pool.
Fire Bowl
Fire Bowl
Typically 2' or larger in diameter offering a flame effect that will distinguish a high-end pool and is absolutely stunning at night. There is a wide range of bowl sizes, shapes, and materials. They can be either natural gas or propane and come with either manual or auto ignitions. For an even more impressive look, water/ fire combination featuring fire surrounded by water spilling over edge into pool.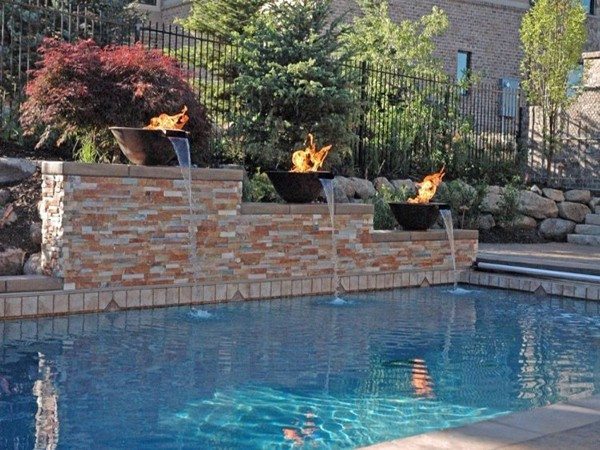 Fire Pit
Fire Pit
Typical wood burning fire pit is 5' in outer diameter and 3' inner diameter. Typically constructed of block, stone exterior finish, fire brick interior finish. Gas fire pits may be round, square, or rectangular in shape. Custom built fire pits are stationary and not intended to be moved.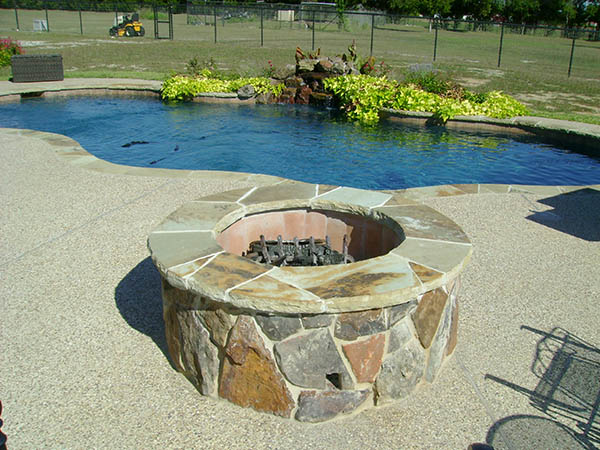 Free Form Pool
Free Form Pool
Focuses on free-flowing design/curves, will trend material selections toward natural stones, coping will be flagstone or similar, water features more likely to be rock water falls, flagstone capped ledges/beach entries compliment natural feel, Trend toward darker pool finish, typically want lush landscaping in close proximity to create natural feel, ideal for more relaxing, family, tropical resort vacation type environment.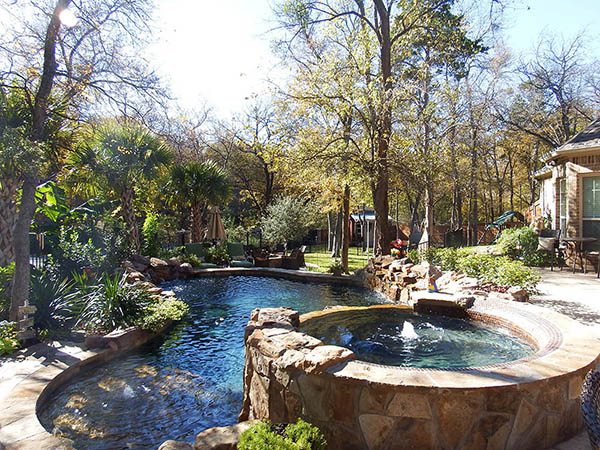 Grotto
Grotto
Similar to a cave-like area into to the pool, typically with a sitting area. It is common to build waterfalls or weeping walls on the outside of the grotto. A slide can be built-in to (on top of or to the side of) the grotto. Grottos can be quite striking and beautiful when done correctly.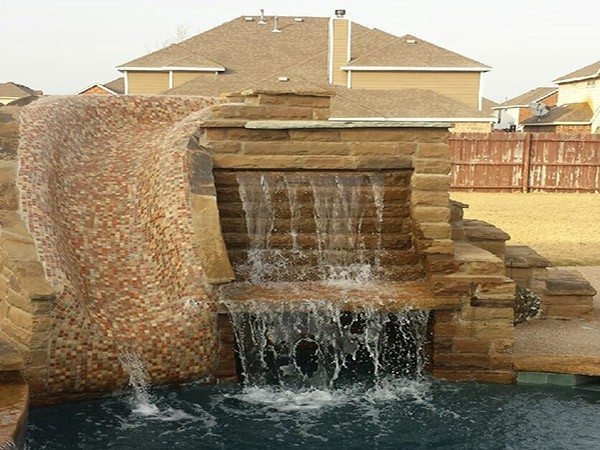 Infinity Edge (Vanishing Edge)
Infinity Edge (Vanishing Edge)
Can be one side of a pool are all sides of a spa. There is no visible edge to the pool or spa. Water flows over the edge into a basin. The catch basin may have raised walls and be a separate part of the pool with bubblers, seating areas, etc. The basin may also be below the ground. In this case, the water will spill into a narrow basin, with a finished grate flush with the deck. The water simply disappears beneath the surface.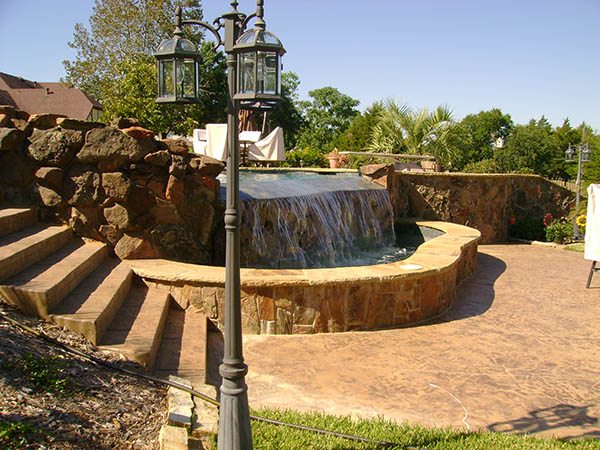 Jump Platform
Jump Platform
A raised beam designed to create an elevated platform for jumping into pool.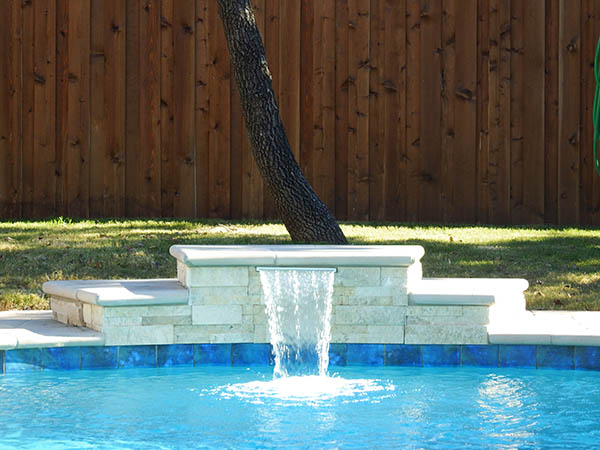 Jump Rock
Jump Rock
A large, natural-looking stone placed at the edge of the pool used as a jump platform. Considered to be safer than a diving board. Minimum water depth of 6' is required.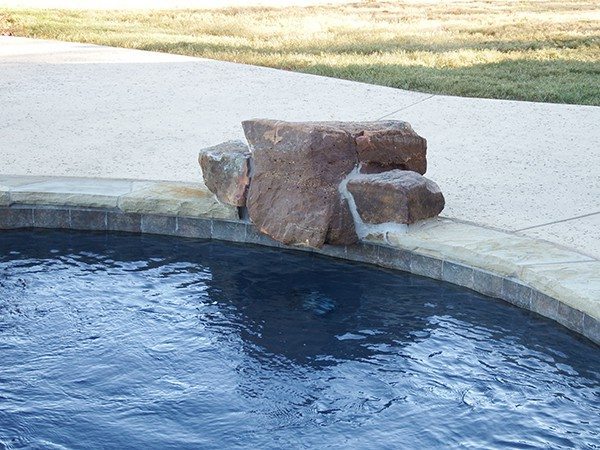 LED Lighting
LED Lighting
LED is rapidly becoming the preferred lighting source for pools and spas. One standard LED light will adequately light a pool up to 36' in length. Additional lights may be considered if pool shape will create shadow areas. LED lights can also be incorporated into bubblers and jets. LED lights are color-changing, have a longer life than halogen and cost less to operate.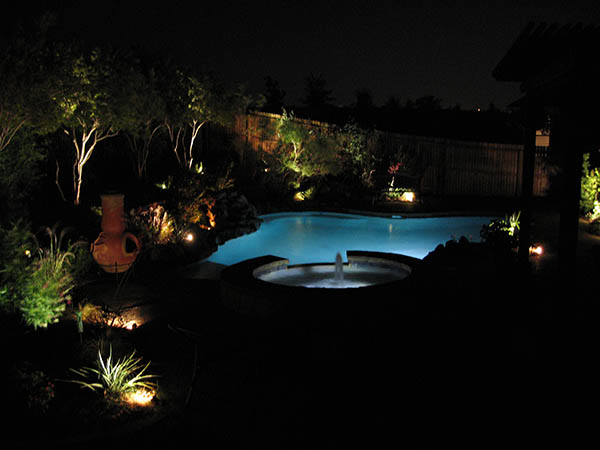 Oversized Spa
Oversized Spa
Is a larger version of the standard spa (6' x 9') with 2 additional jets.
Pergola
Pergola
Will provide an area of shade while allowing sunlight to shine through. The structure can be built as independent or attached to a home or other structure. An arbor is can be square, rectangular, or irregular shaped with curved lines. An added wall on one side of the structure may be of benefit if further relief is needed from West Sun or North Winds. These structures area ideal for outdoor sitting and/or grilling areas.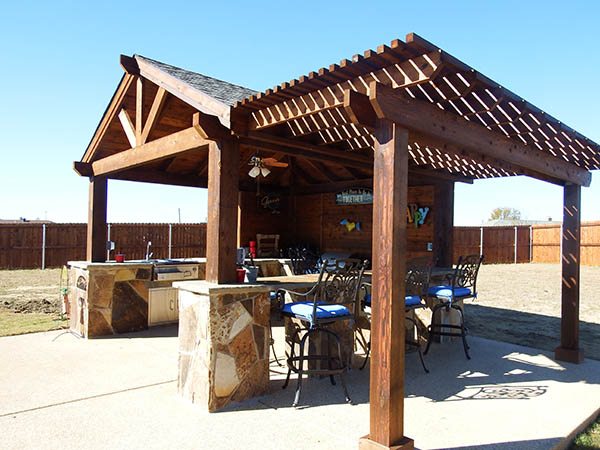 Rain Descent
Rain Descent
Provides a wall of water droplets as opposed to a full sheet of water. It creates a different look at sound than scuppers or sheer descents. Can be a stunning visual out of a pergola or cabana spanning over an area of the pool.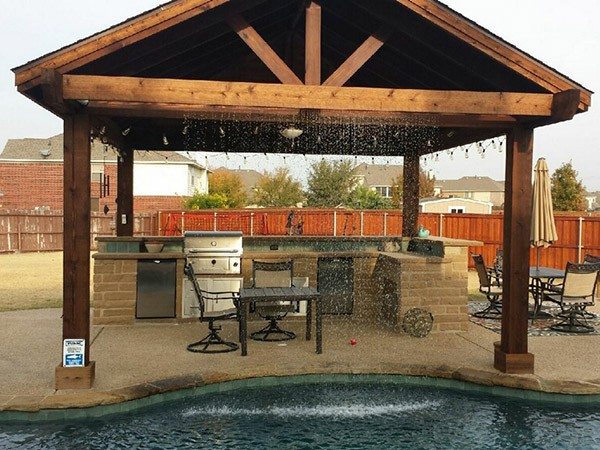 Raised Beam
Raised Beam
Is most often used it situations where there are elevation changes in the pool location. Simply explained, it is a retaining wall built into the pool. A raised beam may also be constructed purely for design and decorative purposes. A raised beam may be used to add desired water features and can double as a seat wall on the deck side of the beam.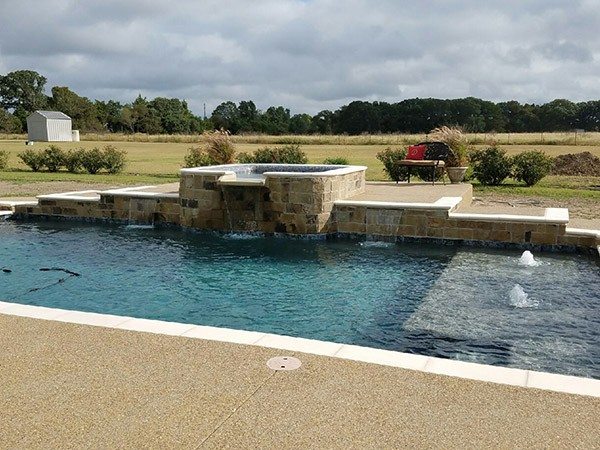 Rolled Edge Spa
Rolled Edge Spa
A rolled edge on the spa creates a more comfortable backing to rest against. During the forming of the gunite, the interior top edge of the spa is rounded as opposed to a flat top. The rounded edge is then finished with 1" tile to create a nice look while provided added comfort.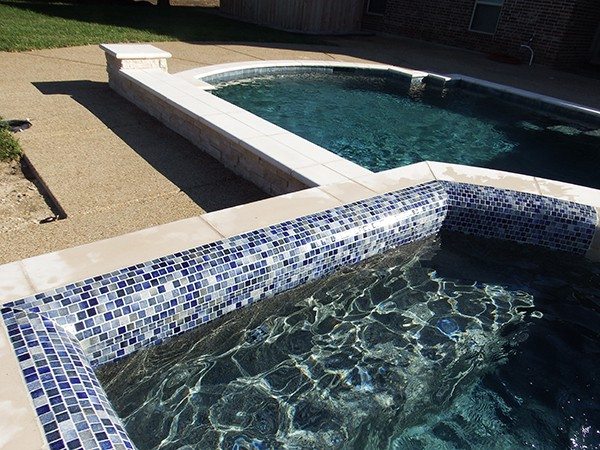 Scuppers
Scuppers
A scupper is a water feature with flowing water. Typically, the scupper is set in a raised beam of the pool. It will drain out of some type of decorative opening.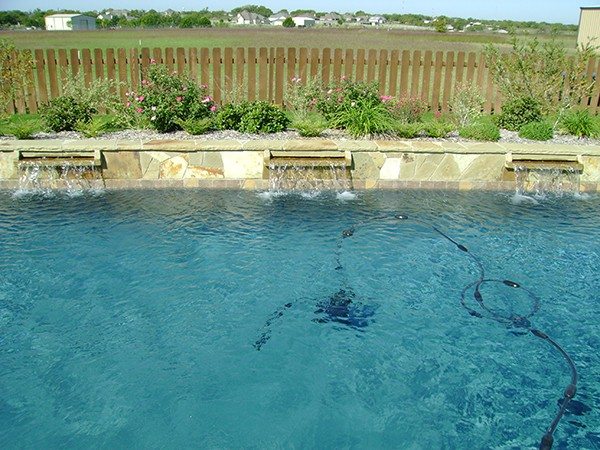 Seat Wall
Seat Wall
Typically constructed of block with stone exterior finish. Typical sitting height will be 15 - 18". An excellent feature around fire pits or between structural posts of a cabana or pergola.
Sheer Descent
Sheer Descent
Is water feature of flowing water. Typically, the sheer is set in a raised beam of the pool. Typically, you will not see any type of decorative finish around the sheer descent. It simply appears as glass-like water flowing out of a wall. Typical descents are 12" - 60" wide.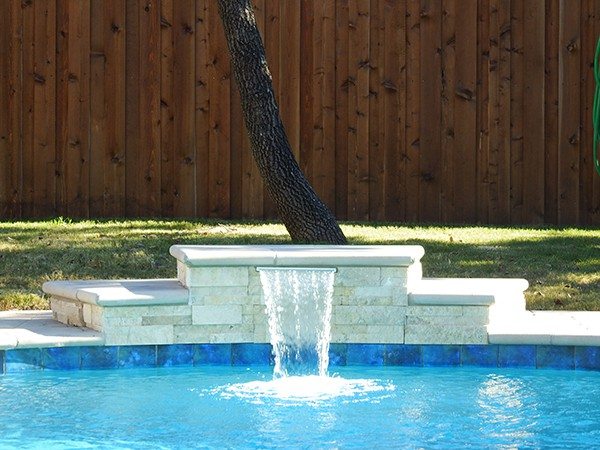 Spillway
Spillway
The spa spillway provides a means of water circulation throughout the pool and a nice value-added water feature. Natural free-form style spas will typically have a natural rock cascading spillway. Classic or straight-line designs may have either a sheer or stepped style spillway. Specialty scuppers may also be used as a nice method of transferring water between the spa and pool. Click here to see pictures of each type of spillway. Please consider how much water flow and noise you want generated for your spillway. The wider spillway will result in less overall flow while a narrower spillway will result in more rushing water with increased sound.
Click here to view our water features gallery.
Standard Spa
Standard Spa
Standard gunite spa is typically formed up with the pool. The spa may be raised above the pool coping, flush with the pool, built inside of the pool with vanishing perimeter edge, or even elevated as part of larger waterfall features. With it being a gunite structure, it can be formed in virtually any shape. The standard size spa is 7'; large enough to sit 5-6 adults. It will be equipped with 6 jets, a beach, light, blower, and gas (Natural gas or Propane) heater.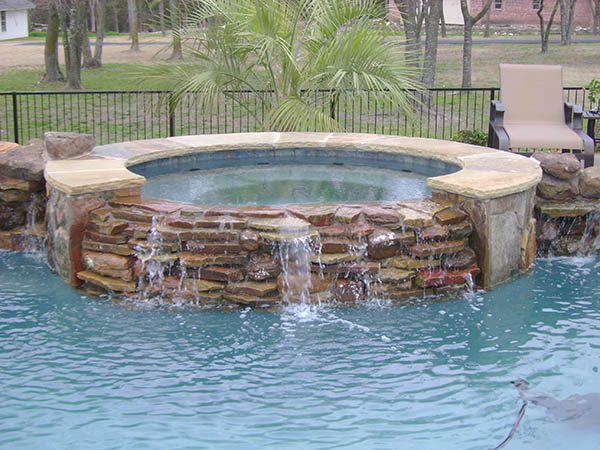 Super Spa
Super Spa
Upgrade either a standard or oversized spa to a super spa. The super spa will add a second ring of jets around the lower well of the spa to offer calf massage. The super spa will require an additional pump and blower.
Swim-In-Place
Swim-In-Place
Is the use of special pump systems that create a strong current at one end of the pool that enable swimmers the ability to swim in place (similar to running a treadmill).
Swimout
Swimout
A notched out area in the pool with a 12" -18" depth. The swimout is typically positioned in the pool area that may lend itself to routine exiting of the pool such as slides, dive boards, or jump rocks.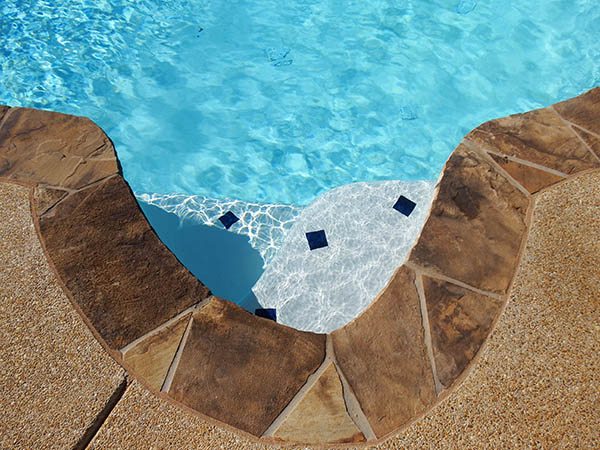 Swim Up Bar
Swim Up Bar
Typically includes an area of the pool with 18" wide coping that can be accessed from both the interior and exterior of the pool. Toad stools are constructed with the pool to create bar stools as a place for swimmers to sit at the bar while remaining in the water.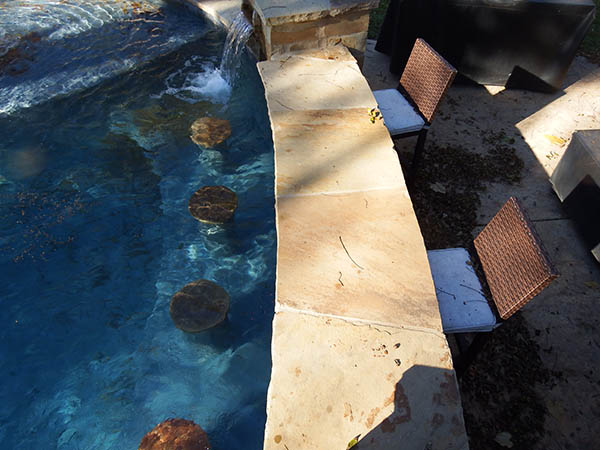 Tan Ledge
Tan Ledge
Is a larger ledge within the pool. It will have 1 or more bubblers and is an excellent place for small children to play. The ledge can be built large enough to sit chairs or loungers on the ledge. The ledge can be incorporated into the pool entry system at the shallow end of the pool or can be independent in the deeper areas. Typically, the ledge will have 6" of water. Tan Ledges can be finished with the same finish as the pool or, to accentuate the ledge it can be capped with stone or tile.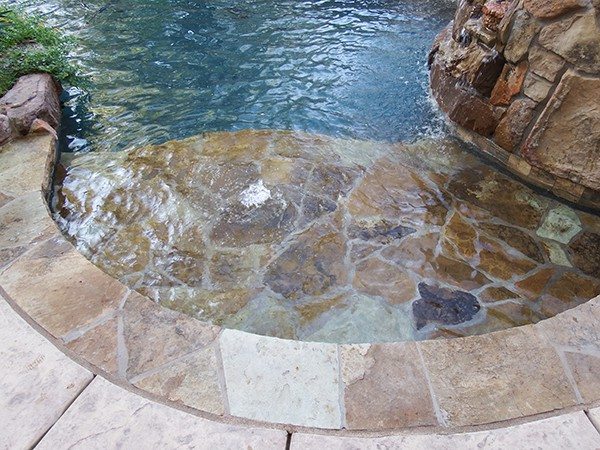 Tequila Table
Tequla Table
Is an area in the pool with a bench and table top. The table top will typically have an umbrella sleeve. This is the opportune place to sit in the pool, have shade overhead, and enjoy your favorite beverage. Great place of enjoyment for parents or grandparents while supervising children playing in the pool.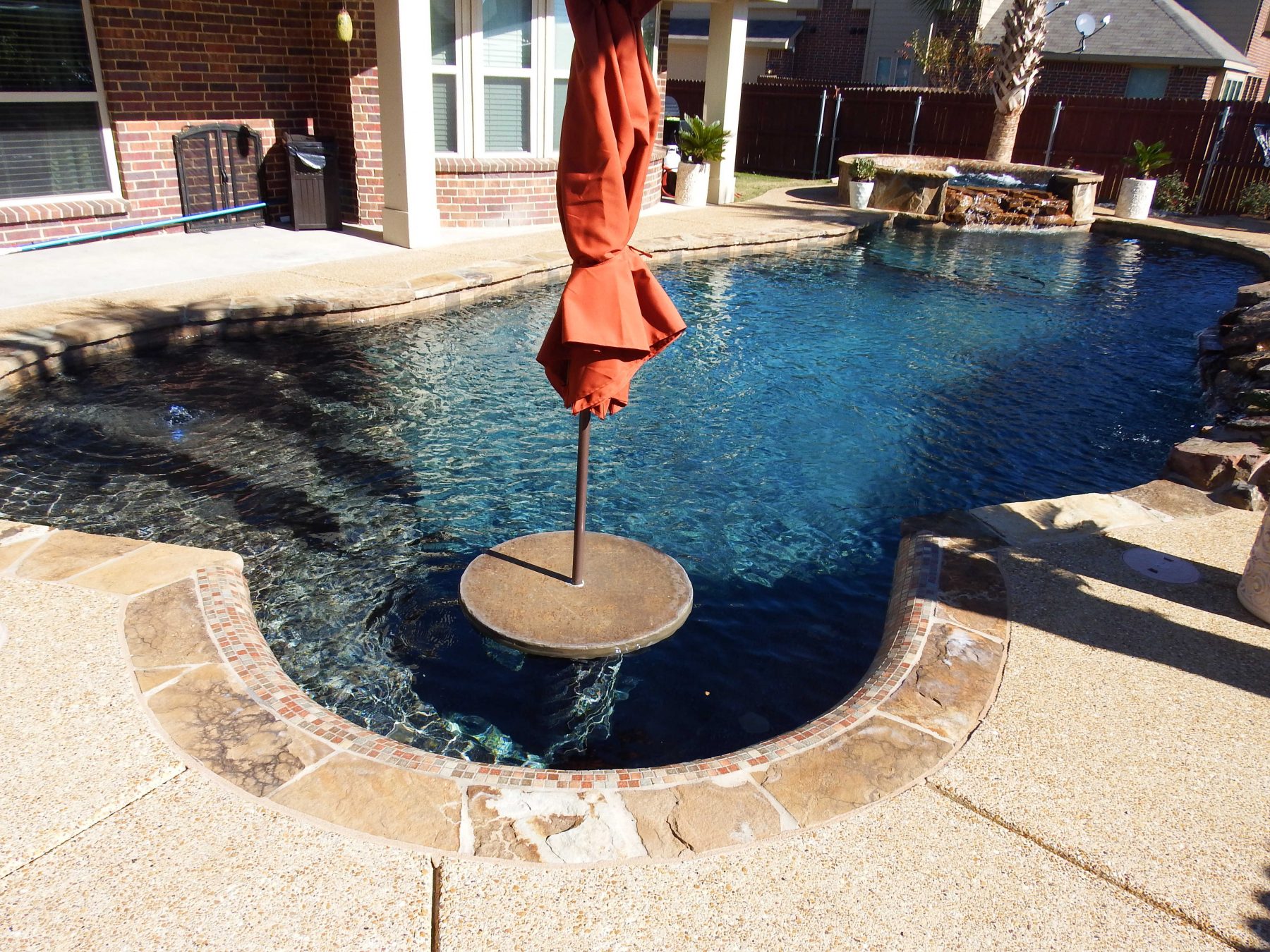 Water Bowls
Water Bowls
A bowl that is usually place on some type of raised beam or column as a decorative form of scupper. The bowl will have a spillover effect into the pool.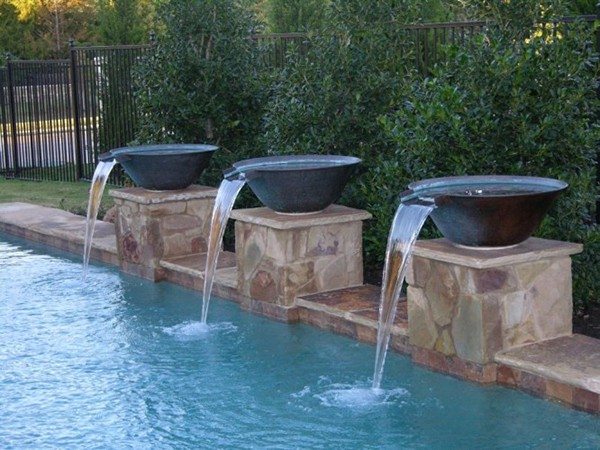 Weir Wall
Weir Wall
Is the name for the visible part of a vanishing edge. The Weir is what retains the water back, allowing the desired amount of water to overflow. It is typically finished in tile. The wall can be constructed of plexiglass for a stunning underwater see-through look.
Waterfall
Waterfall
The waterfall is typically constructed of natural stone and crafted to look like a natural waterfall formation. It can range in size and complexity from a small 1 ton single fall to a large multi-fall feature as big as the imagination and budget will allow. Waterfalls are typically sized and priced in tons of stone that will be required. One ton of stone will typically cover 9 square feet of water fall.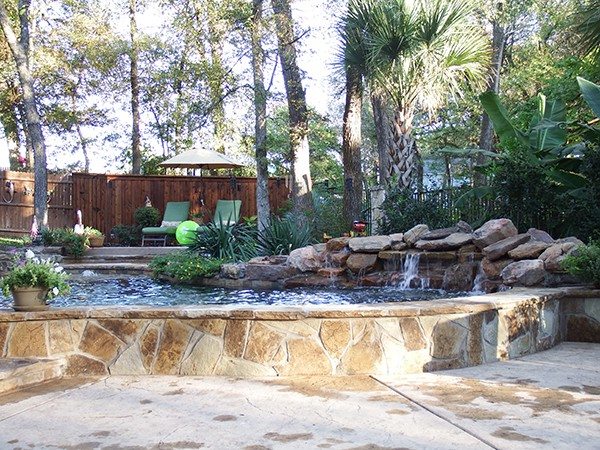 Weeping Wall
Weeping Wall
Weeping Wall is typically constructed of natural stone and provides a low (weeping) flow of water to run and drip over rocks. It can create a natural and beautiful finish to a pool. Install a planter and vegetation behind the weeping wall for an incredible look.