At RiverMist Pools, our goal is to implement integrity, honesty, and transparency into all aspects of our design, sales, constructions, customer support processes.  The founding premise of RiverMist Pools was and will always be to treat people the way we, ourselves, want to be treated and to always do exactly what we say we will do. 
When we offer a price for a stated scope of work; that price will not change for that unchanged scope of work.   Simply stated, that is cost with certainty. 
Our customers are guaranteed:
Transparent line-item bid process
Disclosure of upgrade options prior to finalizing price
No hidden fees
The above operating procedures help us ensure a better experience for our customers.
Our customers will know exactly what is included in their price without the use of generalizations or ambiguity. We also require our customers to review and approve construction plans prior to commencement of construction. This gives our customer a second opportunity to ensure expectations and understandings are fully disclosed and included resulting in a pleasant construction process for all parties.
We do NOT attempt to lure customers with low price only to up sell them after the sale. This only results in delays, unexpected out-of-pocket cash payments, and an unsatisfied customer. At RiverMist, we are intentional to educate our customers of upgrade options and associated costs throughout the design process.
An example of hidden fees, especially for the Midlothian area, is "Rock Time". Rock time is an hourly fee that applies when rock is encountered during the pool dig. This places the customer completely at the mercy of the excavator and pool builder for how many hours of rock time will be charged.
Customers of RiverMist Pools will NOT incur any hidden or open-ended fees, including Rock Time.
Costs with Certainty is our way of respecting our customers with integrity and honesty!
HOW MUCH DOES A POOL COST?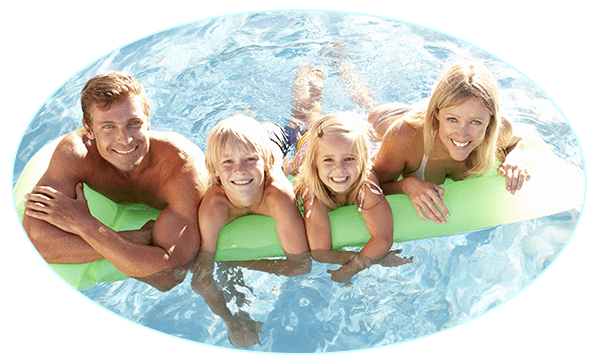 A guaranteed price cannot be offered until the design process has been completed.  We do enjoy being helpful and educational to our customers.
SEMI CUSTOM BASIC DESIGNS
Pick your desired design and customize with entry steps, tan ledges, spas and water features.
THE SERENITY
Pool Perimeter: 73'
Pool Surface Area: 342 SF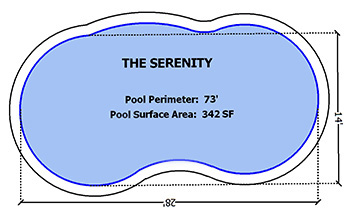 THE CAPRI
Pool Perimeter: 74'
Pool Surface Area: 376 SF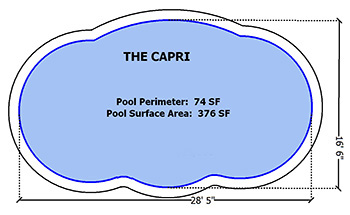 THE DAY DREAM
Pool Perimeter: 75'
Pool Surface Area: 360 SF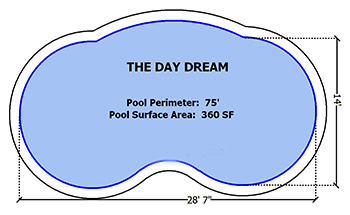 THE OASIS
Pool Perimeter: 77'
Pool Surface Area: 336 SF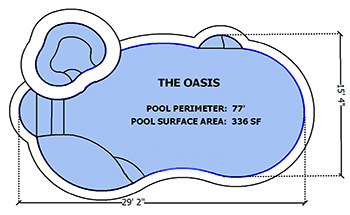 THE COSMOPOLITAN
Pool Perimeter: 80'
Pool Surface Area: 364 SF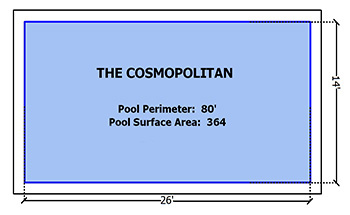 THE DEL MAR
Pool Perimeter: 81'
Pool Surface Area: 405 SF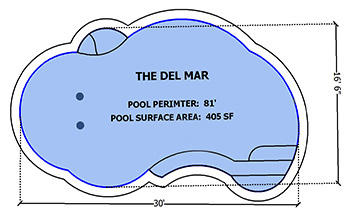 Examples of Medium Size Custom Pools
All aspects of pool shape, entries, ledges, and features are custom designed.
PERIMETER: 88'
Pool Surface Area: 469 SF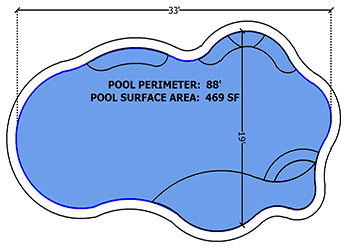 PERIMETER: 96'
Pool Surface Area: 558 SF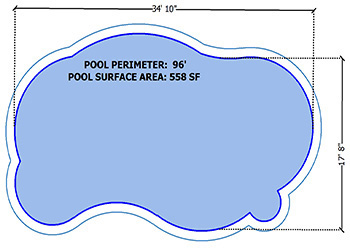 PERIMETER: 93'
Pool Surface Area: 487 SF
PERIMETER: 96'
Pool Surface Area: 512 SF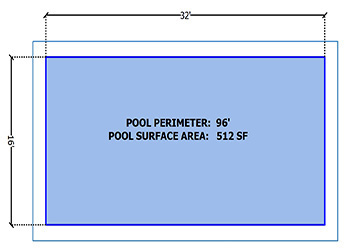 Examples of Large Custom Pools
All aspects of pool shape, entries, ledges, and features are custom designed.
PERIMETER: 101'
Pool Surface Area: 572 SF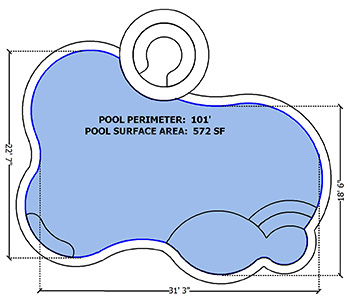 PERIMETER: 120'
Pool Surface Area: 788 SF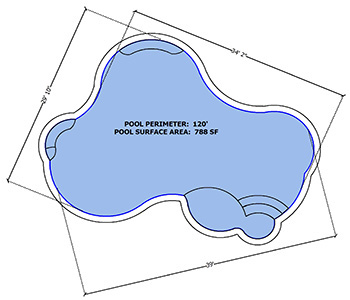 PERIMETER: 120'
Pool Surface Area: 800 SF

Standard Excavation (Requires Backyard Access for Trac Machine and Dump Truck) , Standard Flagstone Coping, Standard 6 x 6 Waterline Tile, White Plaster, Energy Efficient Equipment Package (VS Pump, Filter, 2 Venturi Skimmers, 1 LED Light, Chlorinator, WIFI Controller), Equipment Pad Up To 40' From Pool, 100' Electrical Run GFIC Plug At Equipment, Customized Entries/Sitting Ledges/Tan Ledges, 400 SF of Standard Finish, Concrete Decking (Broom, Textured, Salt, Washed Aggregate), Permit Fees, All Sales Taxes, Fence Removal and Re-install Same (When Required for Access), Fill Line To House Spigot Overflow Line, Construction Clean-up and Final Grade, Basic Pool Maintenance Tools (Brush/Leaf Net/ Test Kit), Start Up Chemicals, and Pool School.
Sprinkler Reroute, Sod Replacement, Raised Beams/Retaining Walls (as may be required), Additional Deck Drains and Gutter Tie-Ins (may be required), Non-Standard Excavation Costs (when track machine and/or dump truck can't access pool location), Electrical Sub Panel (if existing panel is full), Fencing, Soil Stabilization (Chemical Injections For Clay Soils), Additional Plumbing Costs When Equipment Greater Than 40 LF From Pool, and WIFI Extenders.
Septic System Modifications, Relocation of Underground Utilities, Project-Specific Engineering Costs, Piers, French drains, Box Drains, and House Gutters (highly recommended for homes without rain gutters).