PRE-CONSTRUCTION REQUIREMENTS
Step 1 (RiverMist Responsibility)
Order Utility Line Locate.
Step 2 (RiverMist Responsibility)
Submit plans to customer Electric provider for approval - required for all city permits. This is typically Oncor unless you are part of an electric cooperative (ie Hilco Electric Coop). NOT required for COUNTY Permit. This process can take up to 1 week.
Step 3 (RiverMist Responsibility)
Submit for Permit. Allow 7-14 days for city permits. Allow 3 - 5 days for Ellis county permit. No permits required for other counties.
Step 4 (Customer Responsibility)
Septic System Alterations.
Customers with septic system, for which the pool construction will necessitate changes to that system, will require review and new septic layout plan from customer's contracted septic service company. Septic lines should be located prior to excavation. Location of septic lines is the customer's responsibility.
Step 5 (Customer Responsibility)
Finalize Funding. This applies to customers who are financing.
Please allow 4 - 6 weeks for home improvement loans to close. Construction cannot begin for 3 business days from the date of closing.
Step 6 (RiverMist Responsibility)
Schedule Excavation Time.
NOTE: For jobs permitted within a city limits, allow 3 - 4 weeks from time of contract to excavation. For County jobs please allow 1-2 weeks from time of contract to excavation.
Customer Checklist Prior To Dig Day
Make sure any items such as swing sets, trampolines, furniture, and etc. are removed from the pool dig location and access paths.
If you chose to remove tree(s), please make sure that is done prior to dig day.
Please turn off sprinkler zones in areas of pool site and access paths several days prior to dig. This will help minimize collateral damage to yard.
.
If you have outdoor pets, please have plan to for pets not to interfere with workers during construction process.
.
Completed access agreement with neighbor signatures if it is expected that infringement upon neighboring property will be required to access pool site. This is common when homes are close in proximity and there is no rear or side street access.
Have completed finance process and/or appropriate funds available for the staged funding.
Shut off water to irrigation system or other added water lines that may be within the dig site.
Mark any privately added underground lines that were not located as part of utility locate. If privately buried power lines are in dig location, turn off breaker(s) for such lines.
WHAT TO EXPECT ON DAY OF DIG
Dig times are typically set for first thing in the morning. During peak season, we may dig two pools per day.  The 2nd dig of the day will typically start in the early afternoon.  Customer must be present to approve the pool layout, painted on the ground, prior to digging.  In some cases, layout may differ slightly from drawings due to survey inaccuracies.  In such cases, customer may desire to reposition pool location prior to digging.  Please verify with the RiverMist representative if repositioning the pool will affect cost.  In example, it is possible that repositioning the pool can change the square footage of pool deck

RiverMist Pools is responsible for the following:

1. Removal of fence panels for construction access.
2. Setting proper pool elevation to allow for drainage away from pool and home.

RiverMist Pools will take precaution as necessary to limit collateral damage to customer property during construction process.  Please be aware that pool construction is considered heavy construction and there is potential for collateral damage to driveways, walks, or other utility damage as result of the normal construction process. RiverMist Pools cannot be held liable for such damages.

Our Expertise To You: For customers with sprinkler systems, it is likely that the entire sprinkler system will be inoperable until after the completion of pool construction. Please plan accordingly.
Pool will be painted out on ground for customer approval of pool location (approximately 1 hour after arrival of excavation crew). Excavated dirt may be spread around perimeter of pool as needed. Excess dirt will be hauled off unless otherwise agreed for dirt to stay on site. Please note for dirt staying on site, RiverMist Pools is not responsible to spread out the dirt, unless otherwise agreed. Excavation is expected to take 4 - 8 hours. Rare cases will excavation take more than 1 day.

1st 30% Payment Due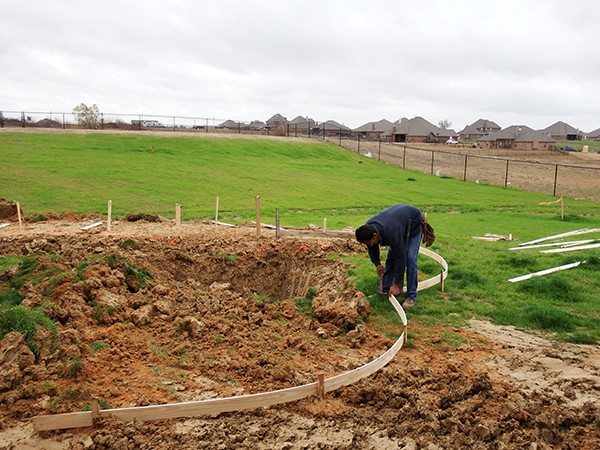 Installation of pool plumbing including drains, wall returns, skimmers, spas, water features, and equipment set.  In some cases, especially for pools being built at unoccupied homes, we may elect to wait until later date to set equipment as protection from potential theft.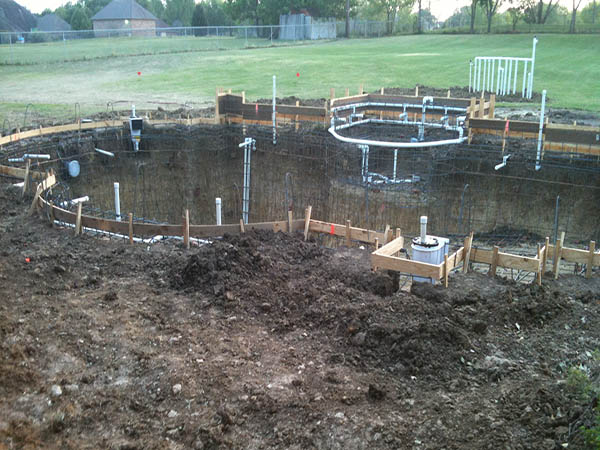 After the pool has been dug, the hole will be lined with reinforcing "steel rebar".  Here is a copy of our standard engineered steel diagram.  In some cases, especially in situations where pools are being constructed in expansive soils or extensive fill dirt, steel should be upgraded from standard #3 rebar (3/8") to #4 rebar (1/2").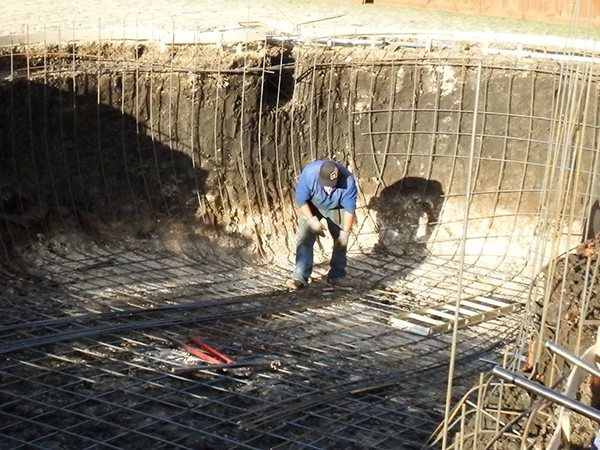 Soil Injections with SWIMSOIL is our recommendation for situations where pools are being constructed in expansive soils.  Expansive Soils can cause pools to become out of level, cause waterfalls to not work properly, cause stress cracks in the pool, and cause plumbing damages.  SWIMSOIL Treatments have been proven as the most cost effective way to reduce risk of such movement.  Please NOTE, warranties do NOT cover damages resulting from expansive soils.
Within municipalities where pool permits are required, inspection of site, plumbing, and steel is required prior to gunite.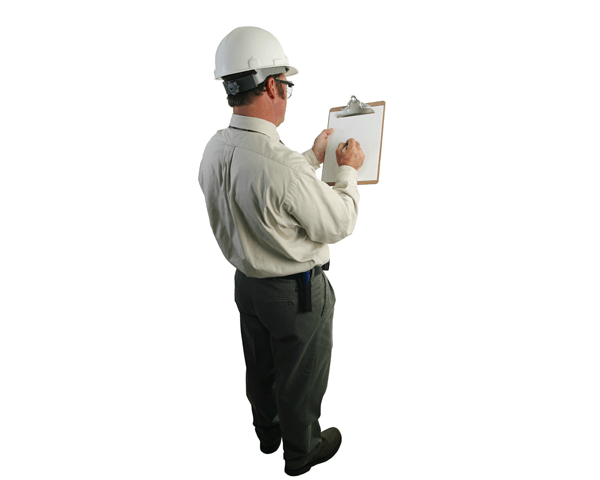 Gunite is a form of dry mix concrete that uses pressure and hoses to pump the dry mix to the desired location. Water is introduced at the nozzle and the mix is sprayed and sticks to the pool walls and floors. Once the gunite is sprayed to the walls and floor of the pool, it can be shaped as needed to create steps, benches, ledges, and other special design features.

NOTE: In most cases the gunite will be left to cure for 5-10 days prior to placement of tile, coping, and stone work. Customer is required to water down gunite twice a day for 7 days to help ensure the gunite does not cure too fast.
2nd 30% Payment Due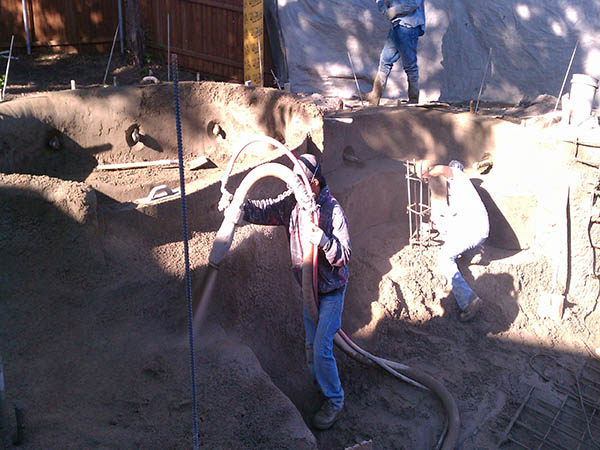 TILE, COPING AND STONE WORK
Waterline and skimmer tile, pool coping, waterfalls, spas, spillovers, and raised beams, retaining walls, custom gunite slides will be finished at this time.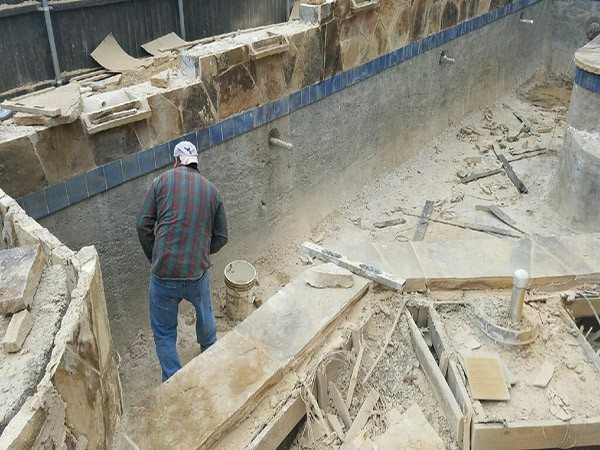 In most cases, electrical will require access inside home.  This phase includes running electrical lines from the existing panel to the pool equipment.  This may require running lines through an attic space, adding conduit to an exterior of home, or trenching for buried lines.  A standard pool only will require 30-40 amps.  A Standard pool/spa will require 50 amps.  Heat pumps and chillers will require an additional 50-60 amps.  Electrical for cabanas and outdoor kitchens will 10 – 30 amps depending on equipment and lighting packages.  An additional sub-panel will be required in circumstances where existing panel does not have adequate capacity.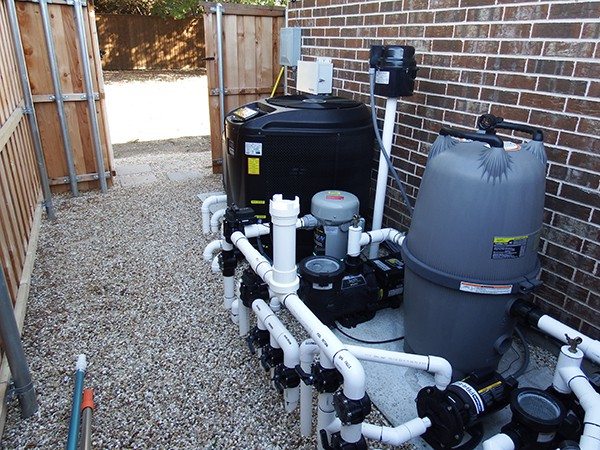 The deck will be formed and steel will be set in preparation of the deck pour.  Drainage is important in and around the pool area.  Unless otherwise stated, RiverMist Pools will ensure proper drainage away from the pool and home within the defined area scope of work.  Deck drains will be installed, as needed, to allow for proper drainage.  It is recommended, for a home within close proximity to pool, to have gutters.  Gutter downspouts within the new pool deck area can be tied into the deck drain system.  Unless otherwise specified, deck drains will empty to the yard approximately 10-20 feet from the pool area.  Drainage issues beyond the defined scope of work is not the responsibility of RiverMist Pools.  If a yard has present drainage problems prior to constructing a pool, the home owner should not expect the construction of a pool to correct such problems.  Drainage concerns should be discussed during the design phase and added to the contractual scope of work as needed and mutually agreed.

If soil stabilization has been included for the pool deck area, the stabilization work will be done after the deck has been set and prior to deck pour.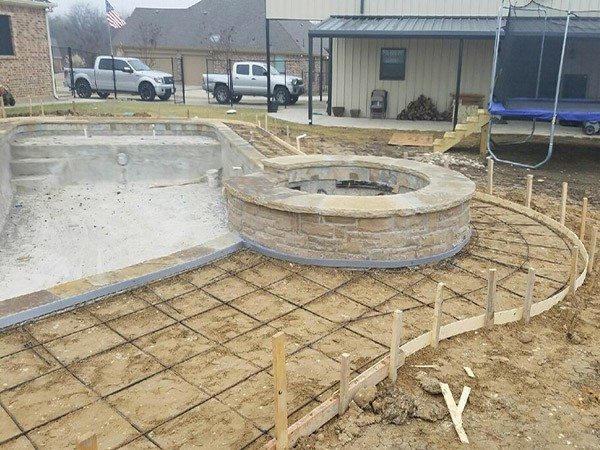 Within municipalities, an inspection will be required prior to the deck pour.  The purpose of this inspection is to confirm steel is properly tied as well as proper bonded and grounded.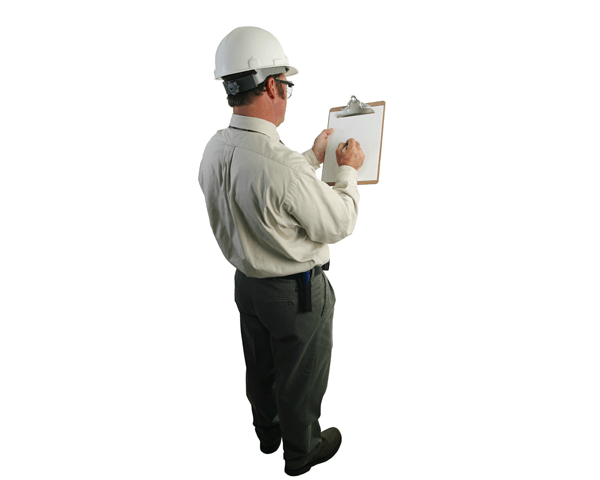 This includes the pouring of all concrete for the new pool deck area and overlays.  Ideally, it is best to get concrete trucks as close to the deck area as possible.  In many cases, concrete will have to be transported from the street with wheel barrows or other devices.  In limited circumstances, where the pool is not accessible by truck and/or the proximity is not accessible for manual transport, a pump truck will be required at an additional cost.  This should be discussed during the design process and itemized as a cost item within the bid.

Types of concrete include:  standard broom finished, no color added salt finish, washed aggregate, color added salt finish, Sundek, and patterned concrete.  Please see our deck gallery for examples.

3rd 30% Payment Due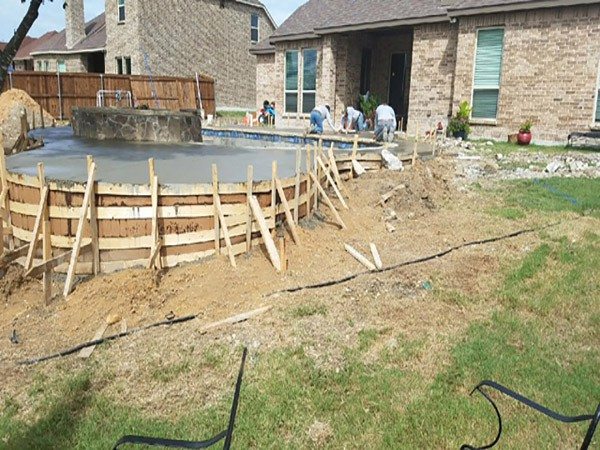 This is when the pool interior finish you have selected is applied to the gunite shell.  The plaster is the material that makes the pool "water tight".  This will be a 2-3 day process.  The first day is spent cleaning the pool in preparation for the application.  Tile spotters for benches and steps and/or custom mosaics will be installed at this time.  Day 2 is the application of your chosen finish.  Quartz aggregate and pebble finishes will require a final step of being exposed.  In most cases, exposure will happen the following day.  It is important to the quality and longevity of the finish not to rush this process.

Congratulations!  It is time to begin filling your pool with water.  Yes, unless otherwise specified, we will use standard water hoses connected to your exterior water spigots.  No, it is not recommended to use a fire hydrant as too much pressure can cause damage to the freshly applied pool finish.  Some cities will give you a credit for the sanitation part of the water bill if you notify them prior to filling the pool.  Please check with your local water department.

Final 10% Payment is Due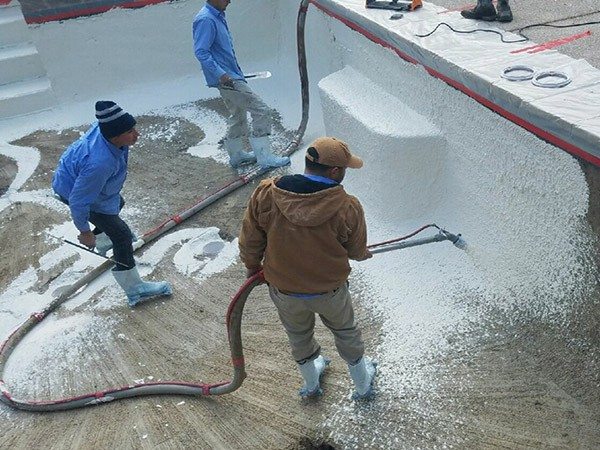 The start-up of your pool is a collaborative effort between RiverMist Pools, RiverMist Pool's contracted start-up technician, and you.  This is the single most important step for the quality and longevity of your pool finish.  Upon completion of the pool being filled with water, the start-up technician will begin the process of balancing the water.  It is imperative to brush the pool no less than 2 times per day to prevent undesired calcium build-up that will alter the appearance of the pool finish.  Click here for the complete Pool Start-Up Guide.

Other items performed during this stage:
Application of mastics.  The mastic is the material between the pool coping and pool deck.

Acid wash of deck.

Introduction of pool sweep to pool.

 Introduction of salt (for salt-based chlorinated pools)

Pool School
Be advised, for pools equipped with a heater, the heater should not be used for a minimum of 2 weeks from the date the pool is filled with water.
This stage will include the repair and reconnection of the water sprinkler system, back filling and final grading around the pool area, the back filling of any other ruts or damages as a direct result of pool construction, re installing of fence panels, haul off of all construction generated debris.

Final clean-up is the final activity of the standard pool contract.  The construction area around the pool area is deemed "sod ready".  

Additional items available for purchase and able to commence at this stage include:    
Installation of replacement sod

Installation of landscape package

Installation of pool safety fence

Installation of pool equipment screen fence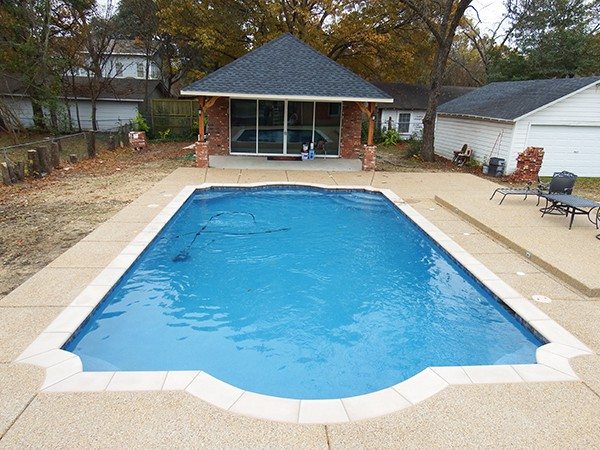 OUTDOOR LIVING STRUCTURES
Outdoor structures range from a simple pergola to an extensive pool  house with full kitchen and bathroom.  The complexity of the added structures determine how construction and payment schedules are handled.  A simple added pergola or cabana is generally included within the standard pool contract and payment terms.  Simple structures are typically constructed after the deck pour and prior to plaster.  In some cases, especially during swim season, the customer may elect to expedite the pool completion by delaying the structure construction until after plaster.

More complex structures will typically have an independent contract and payment schedule.  This contract will typically require 50% payment when structure construction begins and 50% final payment at structure completion.  This payment schedule is also applicable to projects that do not involve pool construction.