Every RiverMist Pool will come standard with a 500-watt Halogen Pool Light and 100-watt Spa Light (if applicable). One 500-watt light will offer coverage up to 36' of pool length. Pools with more shape and/or enclaves may require additional lights to prevent shadowing. Tanning Ledges will not be illuminated without additional lighting.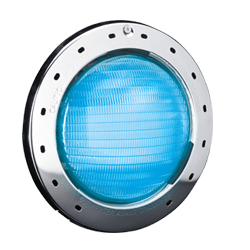 JANDY
LED COLOR
Jandy Pro Series WaterColors LED color pool and spa lights bring a palette of colors to your backyard paradise for a truly unique atmosphere.  Operating with less than 50-watts of power, LED lights can reduce energy expenses by up to 90%, while providing up to 50,000 hours of lighting. Whether swimming or just lighting up the night, you'll enjoy an endless display of brilliant, beautiful color.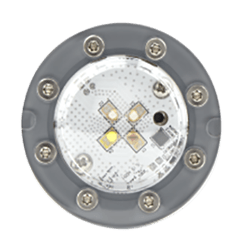 JANDY LOW VOLTAGE 
NICHELESS LIGHTS
The new Jandy Pro Series Nicheless LED Underwater Pool and Spa Lights feature RGBW technology for more radiant color. The LED Pool lights are up to 250% brighter than first-generation models and deliver up to 25% greater beam spread to brighten hard-to-reach corners. Available in Watercolors and White-only models, the lights also come in a variety of outputs and sizes for creative flexibility. A smaller lens size also allows for more lights to be installed without affecting the aesthetic of the pool, creating an even lighting effect while reducing hot spots. The pool lights are low-voltage, require no bonding or traditional niches, and are the perfect retrofit for fiber optic replacement.
Brighter and better illumination
AquaLink & iAquaLink compatible
Nine vibrant colors and five light shows available
Energy-efficient
Part of full assortment of lighting watercolor bubblers, falls, and features